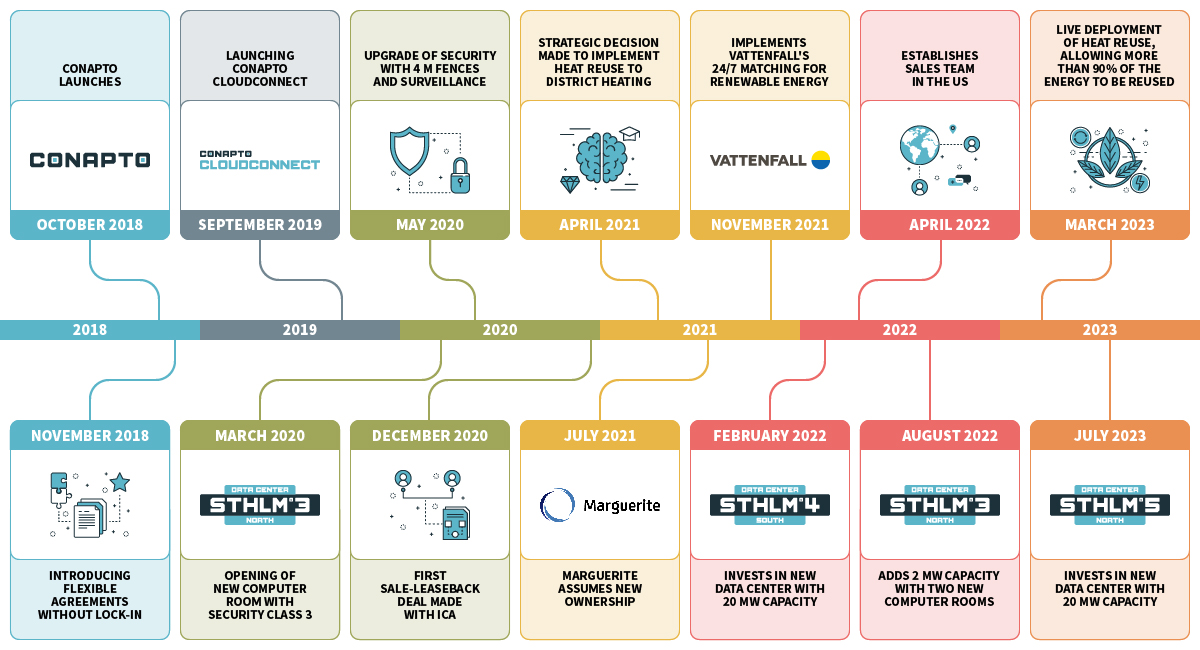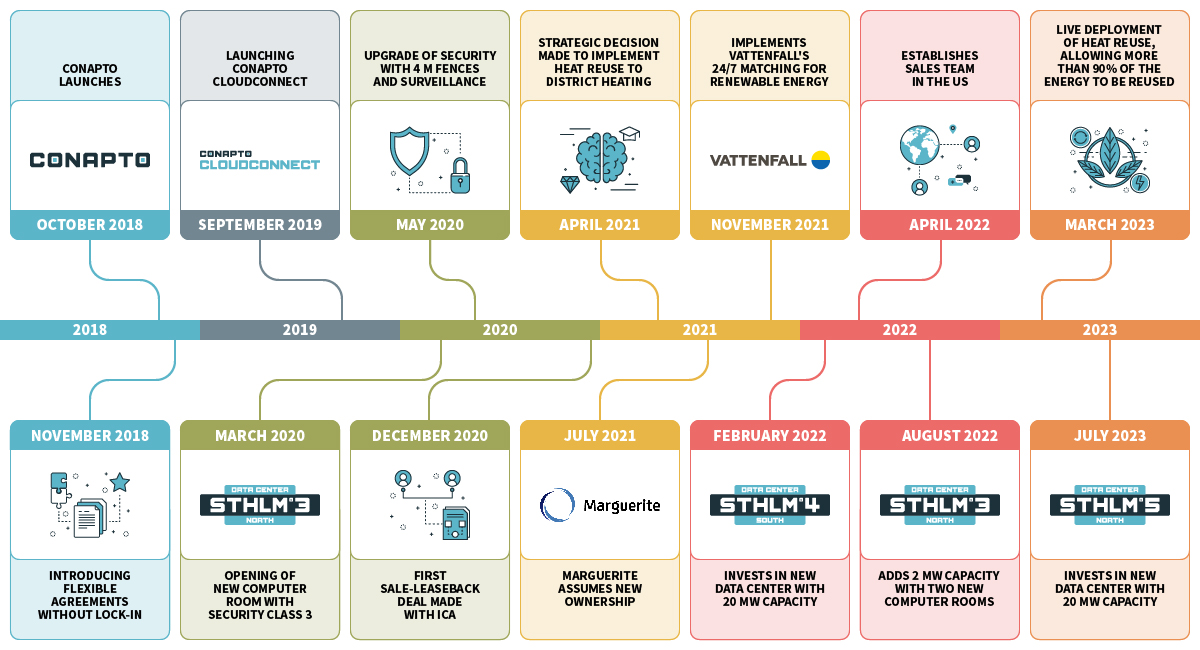 tap and hold on the image to see it larger
Time truly flies when you're having fun, and Conapto is already celebrating its 5th year! Looking back, we've achieved some significant milestones in the company's history. Below, we've summarised some of the most noteworthy ones, and we take great pride in what we've accomplished thus far. It's worth emphasizing that none of the accomplishments would have been possible without the exceptional dedication of our team and the support from our valued customers and partners. 

– Håkan Björklund, CEO Conapto
Conapto was launched on October 1, 2018, with a clear vision of providing secure, environmentally friendly, and cost-effective server halls for physical hardware, as well as access to cloud services. Now, as Conapto celebrates its 5th anniversary, we want to highlight key milestones that have occurred during these 5 years.
In November 2018, flexible agreements were introduced, offering customers more freedom and flexibility through an open and contract-free model.
In September 2019, Conapto launched Conapto CloudConnect, a secure solution enabling private connections to public cloud services. The CloudConnect service expanded Conapto's offerings further and has become the perfect platform for communication into the cloud.
In March 2020, investments were made to expand capacity at Stockholm 3 North by opening a new data room with security class 3.
In May, an investment decision was made to enhance security with upgrades, including 4-meter-high fences and an extensive surveillance system.
In December, Conapto completed its first Sale-leaseback deal with ICA, a significant business event in Conapto's history.
In April, a strategic decision was made to connect to the district heating network to recycle the heat generated by customers' IT equipment in the data center. This was done to contribute to more sustainable energy use and society.
In July, Marguerite II took over as the owner. Marguerite is a pan-European infrastructure fund primarily focused on greenfield investments in renewable energy sources, energy, transport, and digital infrastructure in EU countries and pre-accession countries.
In November, Vattenfall's 24/7 matching solution was implemented, enabling complete energy transparency. This was a significant step forward for Conapto in achieving the goal of becoming Stockholm's most sustainable data center operator.
In February, the strategic decision was made to invest in a new data center with a 20 MW capacity, namely Stockholm 4 South, which is currently under construction.
In April, Conapto expanded its presence in the USA with the establishment of a sales office in Palo Alto, California.
In August, two new data rooms were opened at Stockholm 3 North, increasing capacity by 2 MW
In March, a successful implementation of heat recovery was carried out in Stockholm 2 South and Stockholm 3 North, enabling the reuse of over 90% of the energy.
In July, Conapto continues its growth strategy by making an investment decision to build a new data center with a 20 MW capacity in northern Stockholm.