Conapto become Sweden's first climate neutral datacenter
Energy consuming data centers is an increasingly large environmental threat and the IT industry recently went past the aviation industry in size of climate footprint. As the awareness about environmental issues arises, many companies choose to include all parts of their value chain in their sustainability strategy – including their suppliers. As of 2019, Conapto chooses to become 100% climate neutral.
– We take these matters very seriously and want our customers to be able to include us in their own sustainability strategy, says Stefan Nilsson, CMO at Conapto.
Every time you log on to your bank, stream a movie or browse the Internet, an energy consuming process takes place in the data center which is being used to deliver the service. And the number of Internet based services increases daily. At this pace, the data center industry will be responsible for around 20 % of the electricity usage and 5,5% of the total CO2 pollution within 10 years.
Meanwhile, sustainability becomes an increasingly important factor for competitive advantage and many companies make significant efforts in the area, one of which is choosing suppliers with a solid sustainability strategy. At Conapto, we have chosen to certify as a climate neutral company, and are since 2019 Sweden's first climate neutral supplier of colocation services. Sustainability is an important part of our foundation.
Here, several things are to be considered. You need to run your facilities on renewable energy, utilize excess heat, recycling and life cycle management of the hardware, establish action plans and do climate investments which in the end gives you a CO2 footprint equal to 0.
Collaboration with specialists
Conapto has chosen to work with South Pole Sweden AB who are specialists in climate advising and calculation of investments.
"We have more than 1000 customers in 20 countries but this is the first time we are collaborating with a data center supplier. The IT industry is having large impacts on the environment and it's definitely important to map out the impact you have. By becoming completely climate neutral, Conapto is a industry leader when it comes to sustainability and we hope to see more companies follow their example." says Jens Olejak, CEO of South Pole Sweden.
The certificate for a sustainable delivery is an accomplishment and a large step forward in the overall environmental plan.
"We're incredibly proud to have taken our sustainability work to a new level. This certification is an important milestone in the work we are already doing with using 100% renewable wind power compensated energy, recycling excess heat and being ISO 14001 certified. We take responsibility in the matter and we want our customers to be able to trust that working with us is an environmentally friendly choice for them as well." says Stefan Nilsson, CMO at Conapto.
Psst! Want to visit our new data center? Welcome to book a site tour on a day thats good for you at the form at the bottom of the page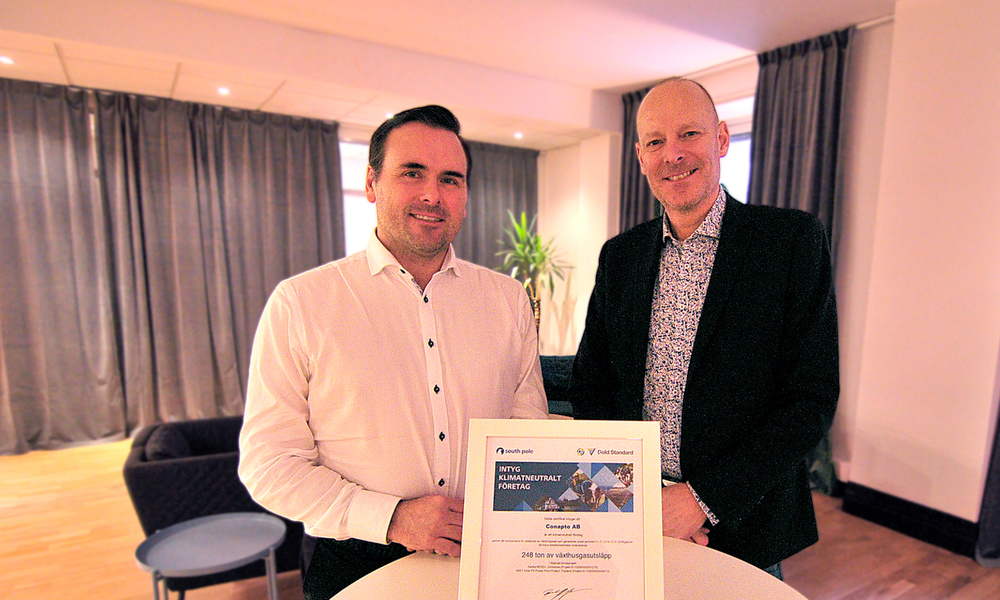 Want to learn more about regulations, requirements and recommendations when it comes to where to store data? Download our guide Data in the cloud or on the ground free of charge here.